About New-Car-Discount
New-Car-Discount, New-Car-Discount.Com and NCD are trading styles of Auto Union Finance Ltd
Company Overview
Established in 1993, we have gone from strength to strength offering unrivaled levels of service to our growing base of loyal customers. Today, we are the UK's largest independent vehicle and finance brokerage providing tailored finance schemes and a broad range of new and used vehicles to both personal and corporate customers across the UK, stocking every make and model, each year our customers collectively benefit from millions in savings off showroom prices.
Our Warrington Sales Office: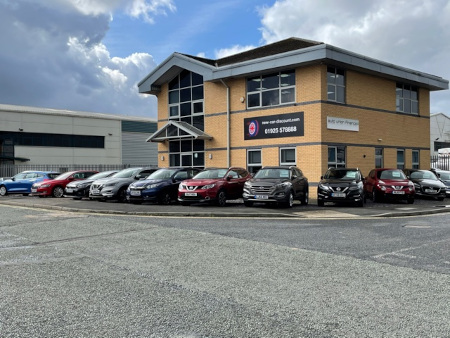 Fastest Growing Independent UK Company:
Apr 2004 7th, The Deloitte Indy 100 league
Jan 2005 16th, The Sunday Times Fast Track 100
Jun 2006 3rd, The North West Business (Insider)
Aug 2009, Arranged in Excess of £50 Million in Car Loans
Feb 2014 "Winner" Announced as Alphera Financial Services'(BMW Group) - "Broker of the Year"
Overview of Group
Established 1993
Staff of ~50
2013 - Achieved Record Sales of vehicles in excess of £30m Over 30,000 new and used vehicles sold and delivered
Regulation
Auto Union Finance Ltd is authorised and regulated by the Financial Conduct Authority
Product Range
Contract Hire
Finance Lease
Personal Contract Hire (PCH)
Personal Contract Purchase (PCP)
Lease Purchase
Hire Purchase
Cash Purchase
Balanced Payments
Variable Rate
Motor Loan

Company Details
New-Car-Discount, New-Car-Discount.Com and NCD are trading styles of Auto Union Finance Ltd
Registered in England and Wales
Company No. 04975821
VAT Reg No. 152 0921 40


Registered Office:
New-Car-Discount.Com
Auto Union Finance House
8 Eagle Park Drive
Warrington
Cheshire
England
WA2 8JA

Telephone
01925 578­ 877 (normal geographic rate number)
Our opening hours are Monday-Friday 9am to 6pm.
Outside opening hours please email us:
Terms and conditions
Our latest terms and conditions can be viewed here.
Our cookie policy can be viewed here .
Our privacy policy can be viewed here.